The Coromandel is a peninsula just east of Auckland on New Zealand's North Island. Its coastline makes for a pretty awesome road trip! Here's my list of 8 things to do in the Coromandel, including all the places we visited on our whirlwind road trip plus some more that I wish we'd had chance to check out…
1. THAMES (WEST)
Thames has some gold rush history, but the main reason I'd recommend stopping here is the shopping! We didn't get to wander for long but there were a few vintage/antique shop fronts that really caught my eye.
2. DRIVING CREEK RAILWAY (WEST)
This is such a unique and quaint way to get some spectacular Coromandel views. Its creation was a labour of love for potter Barry Brickell and the story of the work behind the railway is really inspiring. It's a lovely, ramshackle setting, too, with some wonderful pottery all around.
3. CATHEDRAL COVE (EAST)
You have to walk for quite a while to reach this little cove with its eroded rocks of epic proportions, but it's a lovely spot, especially for photography. You can kayak around to it too, of course, if you have the equipment or join a tour. We did some kayaking here, as we'd heard it was pretty epic, but decided to go for the tour that took you to the blowhole rather than Cathedral Cove. Long story short: I got insanely seasick. It was still a great experience in a lot of ways, I just wouldn't do it again! (Fun fact: this is the trip where the picture in my sidebar was taken. Does the back of my head look seasick?!)
4. HOT WATER BEACH (EAST)
Due to the aforementioned seasickness, we sadly ended up giving this a miss. It's only a short drive from Cathedral Cove and is basically exactly what it sounds like – a beach with hot water bubbling up through the sand. When the tide's out, people congregate and start digging in the sand to create their own little spa pool! Isn't that cool?
5. WAIHI (SOUTH)
Waihi is 'New Zealand's heart of gold' – famous for its gold mining history. We made a very brief stop here to marvel at the Martha Gold Mine (above), which is surprisingly pretty with its golden strata basking in the sunshine.
6. VICTORIA BATTERY, WAIKINO (SOUTH)
In the early 20th Century, Victoria Battery was the largest producer of gold in New Zealand. These days only a shell of the buildings remain, but parts of it are surprisingly monumental in appearance, like fragments of some grand temple or palace. The jumble of rust and concrete relics was way more interesting than I'd expected – I especially loved the cyanide tank support system. With its maze of archways and shadows it reminded me more of a cathedral cloister than something industrial!
7. KARANGAHAKE GORGE (SOUTH)
A beautiful gorge with several different walking paths of varying lengths. If you want to discover more gold mining relics and history in a beautiful setting, or just fancy a relatively undemanding walk, check out Karangahake! If you're a big walker, you can even park up and do the four hour return walk from here to Victoria Battery (or vice versa).
8. PAEROA (SOUTH)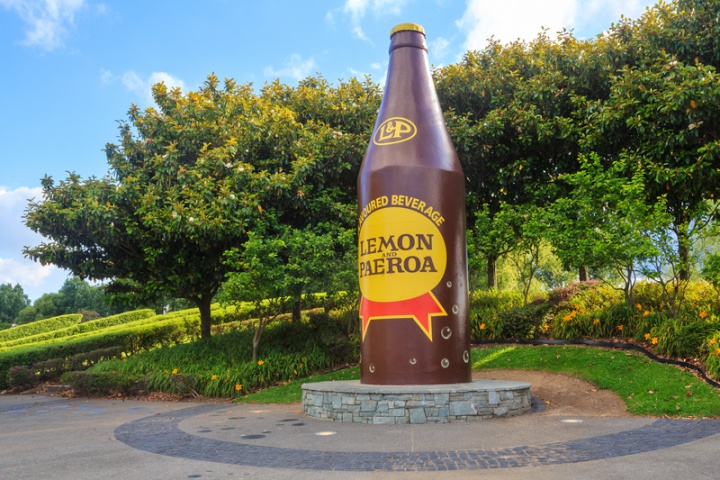 This little Coromandel town is the birthplace of the 'world famous in New Zealand' soft drink L&P (Lemon & Paeroa). Since we first tried it Ben has become a big fan of the stuff and now we regularly pick it up on our supermarket runs. If we ever return to the Coromandel, it would only be fitting to go on a pilgrimage to the seven-metre tall bottle of L&P that stands tall in its hometown!
Source: thepaintedglobe.com