Fall is a great season to visit Canada. The summer crowds have left, and the cold winter temperatures are yet to be welcomed. The nation also hosts many awesome fall festivals that are worth traveling for. Here are the best destinations across Canada for the budget traveler or family. Enjoy peak fall foliage without breaking the bank.
Victoria
Thanks to its award-winning Butchart Gardens, Victoria is a perfect place to visit in fall. The gardens have many vibrant flowers, which the colorful falling leaves of the garden's towering maples and chrysanthemums often overshadow. Victoria is also British Columbia's most haunted town, so it has many spooky events leading up to Halloween. These include Pumpkinfest and Festival of Fears at Galey Farms and Victoria Ghostly Walks.
Algonquin Provincial Park
Algonquin Provincial Park is one of the best places in Ontario to see fall colors. Visitors to the park can enjoy exploring its beautiful forest and waterways via kayak, bike, canoe, or on foot. Check out the Algonquin Provincial Park Fall Colour Report to discover the best time to visit. The various trees—maple, red oak, birch, and tamarack trees—peak at different times.
Okanagan Valley
The Okanagan Valley embraces fall in every way. The Fall Okanagan Wine Festival includes more than 150 events, such as winery tours, food and wine pairing events, and seminars. At Davison Orchards in Vernon, buy or sample their fresh produce, and then take an orchard tour, pick a pumpkin, or pet a farm animal. McMillan Farms is another option for family fun, with hayrides, a hay maze, and more. Golfing is a popular fall activity in the Okanagan Valley too.
Mont-Tremblant
Mont-Tremblant is one of the most popular ski resorts in Canada. However, it's much more than that. Mont-Tremblant and the surrounding Laurentian Mountains offer one of the country's most magical displays of fall foliage. Go up the mountain via the gondola and see the Laurentian ranges in their colorful glory. Other outdoor activities include hiking, playing a round of golf, horseback riding, cruising on Lac Tremblant, and biking. There are also fall concerts in Mont-Tremblant village.
Cape Breton Island
The infamous Cabot Trail on Cape Breton Island is known as one of Canada's best road trips. The 300-kilometer (186-mile) highway hits its peak in fall, thanks to the multitude of different tree species that line the winding coastal drive. Cape Breton Island is also known for its hikes, golf courses, artisan communities, and Acadian hospitality. Plan your trip to the island to coincide with the Celtic Colours International Festival, which celebrates the region's rich Celtic culture through performances and workshops.
Whitehorse
Whitehorse is one of the best places to see Aurora Borealis during fall | © Stocktrek Images, Inc. / Alamy
Whitehorse might be an unexpected addition to this list, but it's on here for one important reason. In addition to the dropping temperatures and changing color of the foliage, during fall, Whitehorse is one of the most accessible areas to see the Northern Lights. Follow this Aurora Fall Getaway itinerary from Travel Yukon, and you are guaranteed to have an unforgettable vacation in Whitehorse.
Prince Edward Island
There are several reasons to visit Prince Edward Island in fall. The first reason is the fall foliage, of course, which is best viewed between mid-September and late October. The second reason is its harvest season, which means fresh produce and seafood. There are also two excellent festivals: the International Shellfish Festival and the PEI Fall Flavours Festival. Finally, it's a great time to be active outdoors and go hiking, biking, or golfing. If driving, check out the Confederation Trail or one of the island's many scenic Heritage Roads.
Sutton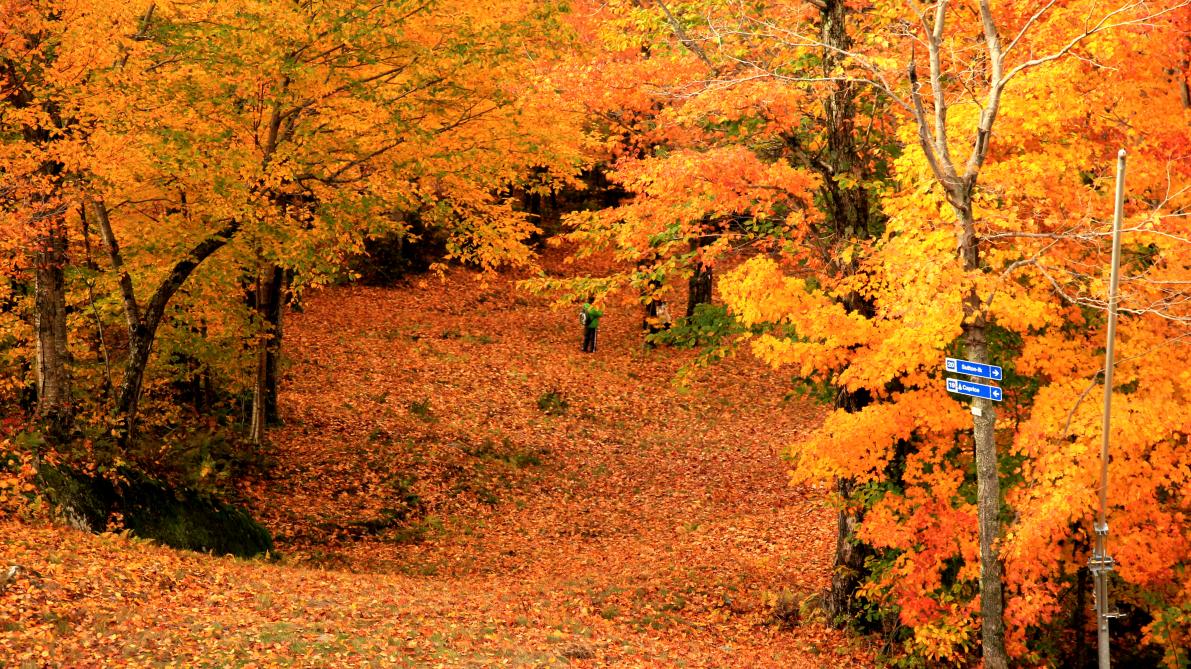 Located in Quebec's Eastern Townships region, the small village of Sutton is home to the Mont Sutton Fall Festival. For five weekends in September and October, there's plenty happening on the mountain, including chairlift rides, guided hikes, activities for the kids, wine tasting events, and outdoor concerts. It's a perfect place for the family to celebrate the new season. Sutton hosts a Jazz Festival every fall as well.
Thornbury
Thornbury in Ontario's Blue Mountains is a lesser-known fall destination in Canada, but the small town celebrates the harvest season in a big way. It begins with the Beaver Valley Fall Fair, which is a very family-friendly event. Then there's the Apple Harvest Festival, which occurs over the long Thanksgiving weekend. Finally, don't forget to follow the Apple Pie Trail and sample delicacies at over 40 stops across the region.
Whistler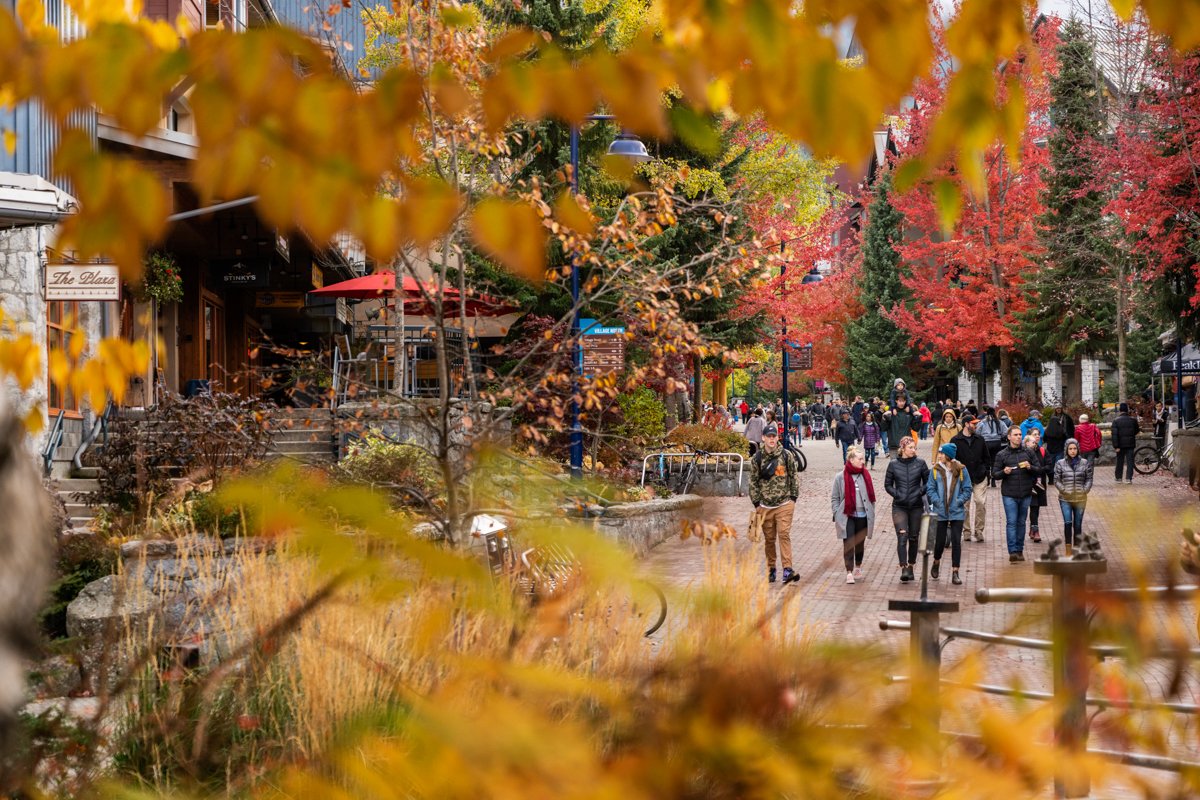 Similar to Mont-Tremblant, the in-between season of fall is the perfect time to see Whistler at an affordable price. Enjoy exploring Whistler Village without the summer and winter crowds. Spend time at local art exhibits and galleries, as Tourism Whistler calls fall the town's "season of creativity." They also recommend visiting Rainbow Park at Alta Lake for amazing fall foliage in October. Whistler hosts the Whistler Village Beer Festival and Cornucopia, a food and drink festival, every autumn too.
By: theculturetrip.com