Switzerland is home to amazing chocolate and cheese, cute log chalets, the sounds of cow bells in the distance, fondue and snow capped mountains.
The Swiss alps are famed for skiing in the winter but they have some of the best hikes in the world.
In the summer, spring or autumn the mountains are buzzing with hikers on the hunt for adventure and for some of the most beautiful views in the world.
With so many hikes to choose from which are the best hikes in Switzerland? Keep reading to find out the best hikes, what to know before you go hiking and what to wear to get the best out of your hiking experience.
Gimmelwald to Murren
While there are countless amazing hikes in Switzerland, one of the best ones is between the little hamlets of Gimmelwald and Murren high about the Lauterbrunnen Valley.
What makes this hike so perfect is that depending on your ability level, you can adapt this to whatever your goals may be and no matter what you choose, you will be rewarded with some of the most breathtaking views of the Swiss Alps!
For example, for more experienced hikers, one can choose to hike up from the base of the mountain, starting near the Stechelberg Gondola Station. This is a pretty steep, but not technically difficult upwards climb to get to Gimmelwald.
Alternatively, you can also choose to just take the Gondola straight up. Once in Gimmelwald, the hike to Murren is actually very easy. Most of it is on more or less of a pathed path. This particular stretch is less than 2 miles and mostly flat.
For the more adventurous, there is a fantastic Via Ferrata as well connecting the two villages. However, from here, you can continue to choose from a plethora of further hikes, many ranging from easy all the way to very difficult.
Therefore, depending on how you adapt this hike, it is absolutely perfect for all levels and abilities. But what makes this hike so spectacular beyond its versatility is the absolutely stunning views you get out over the Jungfrau ("The Top of Europe"), Eiger, and Monch peaks which loom over the Lauterbrunnen Valley between you two.
So, whether you are just looking for fantastic mountain views without a lot of effort, or quite the thrill, this hike has it all for you.
Oeschinensee
Hiking around Oeschinensee is probably one of the best hikes you can take – the amazing lake nestled within the Swiss Alps knows how to impress.
Located in Kandersteg in the Bernese Oberland it is close to places like Interlaken and Thun and yet it takes some time to get to Oeschinensee. From Interlaken Ost take the train (about 70 minutes) or get to Kandersteg by car (about 80 minutes). But it is worth every minute of your time!
There are several hiking trails – from a very easy one to an Alpine hike for very experienced hikers only. The moderate hike is probably the best as it offers amazing views and almost any semi-fit prrson can do though it takes several hours and include some uphill hiking. If you haven't hiked much before, it will be a challenging but it is doable!
From Kandersteg get to the cable car station and buy a return ticket to get to the mountain station first. You could hike to the mountain station, too but that would make the hiker very long. From the mountain station, follow hike route no. 8 (Oeschinensee to Heuberg).
The vantage point Heuberg has some of the best views – it is just breathtaking. The hike is scenic and you have top views of the Alps most of the time. The whole hike takes about 3-4 hours (without any breaks).
Tip: Bring hiking poles as it includes a lot of uphill- and (steep) downhill hiking.
Then hike down to the lake and spend time on, at, and in the lake Oeschinensee – you surely deserve some time to relax after that hike.
There are several mountain huts along the way offering snacks and drinks. Or bring your own snacks and a water bottle to refill with fresh water during the hike.
For fantastic views, try to visit on a sunny day – this makes hiking easier and also the color looks the most stunning.
For a day trip to Oeschinensee, I suggest staying in Interlaken, Hotel du Nord is a fantastic place in the heart of Interlaken with great views of Höhenmatte.
Wasserauen
What makes the hike from Wasserauen to Seealpsee great is that one can customise as to how easy or challenging to make it as there are numerous routes one can opt for to get here.
To start the hike, you need to take the Appenzell railway from most locations in Switzerland and get off at Wasserauen. From this point, you can either choose to start hiking, or you could even take the Ebenalpbahn (the cable car) and alight at one of the many stops, one of which is Ebenalp.
There's a dense network of routes one can take here in the Alps and there's are various locations that one can choose to end their hike. Santis is the highest location one can get to on this hike however some other notable locations are Altmann, Gartenalp and Rostein.
The hike from Wasserauen to most places is moderately difficult. Depending on the altitude, it can however get quite difficult as well.
What makes the hike special is the views no matter which path you choose. There's mountain lakes, dense mini clusters of forests and some of the freshest air you'll ever experience in this region. There are numerous chalets as well you can choose to rest at as hikes can last multiple days. These chalets are budget-friendly and have basic amenities like showers and meals.
Every area is picture-perfect however make sure you wear good hiking boots and have good waterproof wear to cover yourself and equipment such as cameras as weather is sometimes unpredictable here. Best time to hike in this region is Spring and Autumn.
Grindelwald First
Grindelwald is a picture perfect town in the Jungfrau Region and a very popular place to visit. A must-see for most tourist, is a visit to Grindelwald First. This is a 2167-meter mountain from which you have a fantastic view of the surrounding mountains. There's a viewpoint and a (scary) cliff walk, from where the views are even more incredible.
How to get to Grindelwald First? Most people tend to take the gondola, but it is way more fun (and way cheaper) to hike up there! You do need to plan a full day to do this, it's a very long and steep climb.
It's easy to start at the train station. Here you'll see a sign that points you to Grindelwald First. Just follow the signs, and you'll get there! However, it's not easy, and it will take you about three to four hours to get to the top. But the views alone are worth it, they are incredible. The trail is not very high trafficked, which is surprising, since Grindelwald first is a hotspot for tourists.
You might meet some cows during your hike, but don't be scared, because they won't harm you (and you'll hear them from a far, since they're wearing bells). You don't need to bring a lot of water, you can just use a refillable bottle, and there are several places to refill your bottle along the trail. There are also a couple of restaurants you'll pass, so you also don't need to bring a lot of food. However, you might want to do that when you're on a budget, because the food in the restaurants can be quite expensive.
During the hike, you'll have some great views of the surrounding mountains, flowers, beautiful wooden houses, gorgeous mountain lakes, and if you hike back down, you'll even encounter a waterfall or two. The hike to Grindelwald First is one of the best hikes to see the real Switzerland!
The town of Grindelwald can be a very expensive place to stay, so if you're on a budget, it's recommend to stay in the town of Interlaken and take the train from there to Grindelwald. In Interlake, you'll find several hostels that will fit within your budget. The best place to stay is Backpackers Villa Sonnenhof.
Mount Pilatus
An easy day trip from Lucerne, Mount Pilatus is one of the best places to hike in Switzerland for travelers who want a mix-and-match approach to reaching the 2,118-meter summit. Mount Pilatus is one of the most accessible peaks in the Swiss Alps as it's connected by a cog railway train (48% incline—the steepest in the world) and gondola, starting from Alpnachstad.
For hikers who want trek to the top with their own feet from Alpnachstad, take the Ämsigen trail for the most diversity when it comes to terrain. This 15 km out-and-back trail takes around 6 hours to complete, with an optional 40-minute added loop at the Mount Pilatus summit. Many hikers opt to go one way by locomotive and the other on foot. The trail leading to the top of Mount Pilatus is very steep, though clearly marked and well trod. For beginner hikers, it's best to take the train and gondola to the top. Then, venture on a 2-hour out-and-back hike to Tomlishorn, a generally flat trail with some short steep sections.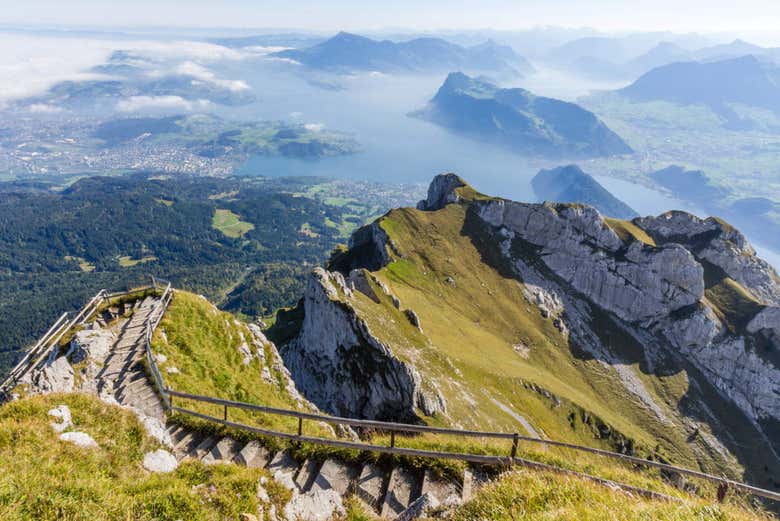 To beat the crowds and the heat, venture to Mount Pilatus as early as possible. This way, you can spend all day stopping at whatever spot catches your eye. From alpine meadows to exposed rock faces, the terrain varies greatly as you move up in elevation. If you venture away from the crowded areas, you might spot an ibex, a quirky mountain goat endemic to the region.
For an immersive experience, check into the Hotel Pilatus-Kulm, a boutique hotel near the summit of Mount Pilatus. As the last train departs around sunset, you'll be able to experience golden hour and sunrise without other tourists and enjoy a bright sky of stars at night.
What to know before hiking in Switzerland
Like any mountainous destinations, hiking in Switzerland can be dangerous. The weather in the mountains can change in the blink of an eye. When you start at your hike you might have a beautiful day and then half way up the mountain you are greeted with a blizzard.
Before you begin your hike you need to ensure that you are have sufficient food, water and warm clothes. It is always a good idea to let someone know where you are going and how long you are going for.
Ensure you have done proper research on the trail and take on board any recommendations from professionals and locals.
If you are heading to a hike that will not have reception you might want to invest in a paper map to ensure you do not get lost.
When is the best time to visit Switzerland for hiking
The best time to go hiking in Switzerland is in June as the snow has melted and the weather has started to warm up. The end of the season is usually around September but some years it can be as late as October depending on the weather and snow fall.
The hiking season falls in the summer which means that this is also peak season for tourists so make sure you have planned your accomodation in advanced.
For a quieter season, you might choose to head to Switzerland in the Autumn/fall. The leaves are starting to change which makes the scenery even prettier and many tourists have headed home again. If you choose to go hiking in Autumn make sure you are prepared for snow and cooler temperatures.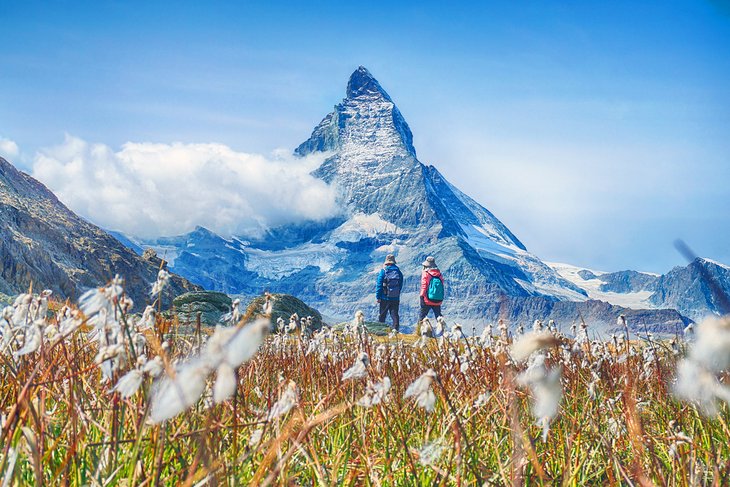 What to wear when you're hiking
When you are hiking, layers will be your best friend. As the temperatures can change a lot when you are hiking it is best to be prepared.
Wearing comfortable shoes that you have worn before and are made for hiking, whether you choose to go with running shoes or boots is completely up to you. You need to ensure that your shoes have appropriate tread on them and proper support for your feet and ankles.
A fleece jumper will keep you warm without being bulky and a t-shirt which can protect your skin from the summer sun. When it comes to trousers you want to wear something that is comfortable and that you are able to move in.
Make sure to pack a light weight rain coast to protect you if the weather conditions change.
It is also handy to pack a head lamp when hiking. You never know what is going to happen and if you return later expected you do not want to be caught in the dark with out a light.
Source: travellingthirties.com