You may have heard an amiable Kiwi say "sweet as!" in response to a question or statement. It's an acknowledgement of something great or awesome, an agreement to get something done, or just a straight out exclamation of delight. And speaking of sweet – and keeping that bit of NZ colloquialism in your head – here are New Zealand's top 10 fave desserts.
Lamington
This delicious treat has been one of many in a long line of bones of contention between the Kiwis and the Aussies, and the age-old argument as to who invented them first. Well, thanks to a University of Auckland it was discovered (or rediscovered) that they had belonged to New Zealand all along – although under the name of Wellingtons. Throw a good dollop of cream and jam in between two slices of cake and you've got a treat so good that you'll be going back for thirds. If you're a Kiwi reading this, you won't need us to remind you of the waves of nostalgia that will be lapping around your tastebuds when you take your first bite of this NZ classic.
Jelly Tip
The Jelly Tip has been a firm favourite with New Zealanders since its conception over 50 years ago. It has had many iterations in that time, but it is most revered and adored form is as an ice-cream. If you picture a jelly, well, tip followed by a generous section of creamy vanilla ice-cream, all covered in chocolate you'll have yourself a pretty clear idea of the treat in question. No truly Kiwi summer day is complete without a Jelly Tip ice-cream dripping down the back of your hand.
Hokey Pokey Ice-cream
Hokey pokey has always been a New Zealand favourite, second only to vanilla in sales country-wide. This is no mean feat when you consider that Kiwis consume 23 litres per capita a year! That's a lot of ice-cream. The crunch of the golden honeycomb lumps is as familiar to New Zealanders as the feeling of ice-cream melting down your hands. It's so popular that it has been shipped across the world, and even made an appearance on postage stamps.
Louise Cake
With its cakey base, sweet jammy middle and coconut-meringue crown, it's not hard to see why this tasty number is an established favourite when it comes to dessert in New Zealand households. You can, of course, pick one up from any good local bakery, but with many goods of this type you'll always enjoy the best slice at your own table with the smell of a fresh louise cake still permeating your kitchen and a nice cup of tea at your elbow. The slice is most likely courtesy of early English settlers, and it continues to be an old favourite among bakers and enthusiasts.
Pavlova
Well, we hardly need to mention what an important part the pavlova plays in the annals of New Zealand dessert history. In layman's terms this iconic dessert is a meringue cake topped with fresh fruit and cream. The inside is soft, like a marshmallow, and together with the crispy outside provides a deliciousl collision of different flavours and textures. While everyone loves a classic pav, why not throw in a wee twist with a little lemon curd and a sprinkling of pomegranate gems.
Mock Cream Donut
They have long been lining bakery shelves, alongside Sally Luns (or Boston buns) and other baked goodies, and have dusted many a school uniform with residual icing sugar. Fried and coated with icing sugar, they are a doughnut like no other: slightly crispy and sweet, doughy and chewy. They are not your typical American-style, Homer Simpson-esque doughnut, but they are a favouite in Aotearoa. If there's one thing you'll learn about dessert in New Zealand, it's that when in doubt just add plenty of cream.
Lolly Cake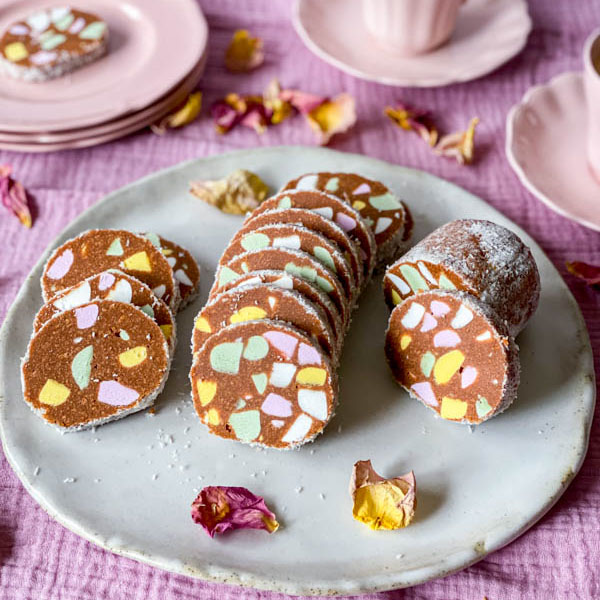 This is one of those sweets that we love to hate, but really, it's hard to say no to. It's just simple, sweet and utterly delicious. Kids go nuts for it thanks to the pleasing aesthetics of its cross section, and as much as adults might grumble and roll their eyes when a box is busted out by somebody at lunch break there are few people that won't help themselves to a slice or two.
Chocolate Fish
This chocolate covered, fish-shaped strawberry marshmallow is one of New Zealand's most iconic pieces of confectionery. While not a dessert on its own, it's such a classic and edible epitome of Kiwiana that we had to include it. Plus it adorns "proper" desserts most of the time anyway. It's also a standard accompaniment to a cup of coffee in cafes all over the country. It's a nice thought that while the Italians might have the biscotti and the French a little pastry, the Kiwis have the chocolate fish.
ANZAC biscuits
ANZAC stands for Australian and New Zealand Army Corps and is representative of the Antipodean troops who fought during World War One. The story goes that the wives and mothers and daughters of the brave chaps who headed across the world to fight would send their loved ones biscuits. The original recipe came from the ingredients that the women knew wouldn't spoil on their long journey over the sea. These days the original recipe has been slightly altered, but the sticky heart and syrupy soul of this afternoon treat remains the same.
Afghans
A classic recipe afghan consists of a chocolate cookie baked with cornflakes mixed in, coated with chocolate icing and then finished off with half a walnut on top. It's strange, but the finished article isn't as sweet as you'd expect, making the Afghan one of those biscuits you don't feel as guilty about polishing off three or four with a cup of Earl Grey. While you would be forgiven for thinking that the name harks back to a middle-eastern origin, these toothsome morsels are 100% Kiwi.
Source: theculturetrip.com