This city has been in my travel bucket list as I have met different people who rave about it. Berlin is the capital city of Germany known for its vibrant and colorful culture and street arts, for its fantastic nightlife (I have heard that they even have a 48-hour club there), and its interesting and eventful history as I have learned from documentaries and clips. Visiting Germany has also attracted me since most of my friends and acquaintances who I have met while traveling around South America were German; were they are all very friendly, far from their distant and reserved stereotypes.
It was last September 25 when I finally realized my dream of setting foot in Berlin together with my boyfriend Kees. This is his third time in Berlin while this is my first time. With only a 60 days Schengen visa and being a first timer in Europe, I wanted to maximize my travel itinerary. We only had four days and three nights to explore the city. We are actually not conventional travelers that always have a strict schedule to tick all the sightseeing checklists. Mostly we just go with the flow and follow our instincts to slowly unravel the charms of a city.
Here are my top seven things to do and see in Berlin:
1. Try the vintage photobooth near the Checkpoint Charlie
Checkpoint Charlie is one of the most popular tourist spots in Berlin, but it is actually just a box but with a historical and significant past. This was the area of the Berlin Wall where you could cross between East Berlin and West Berlin. But after taking a photo of that spot, you can explore more around the area. Namely, it has museums, cafes, restaurants, and poof there's a vintage Photo Booth at the corner of the food park! Haha If you are with your significant other – which I was – this is a nice and cheesy idea to force your boyfriend (or girlfriend) into it. Haha
2. See the World Clock in Alexanderplatz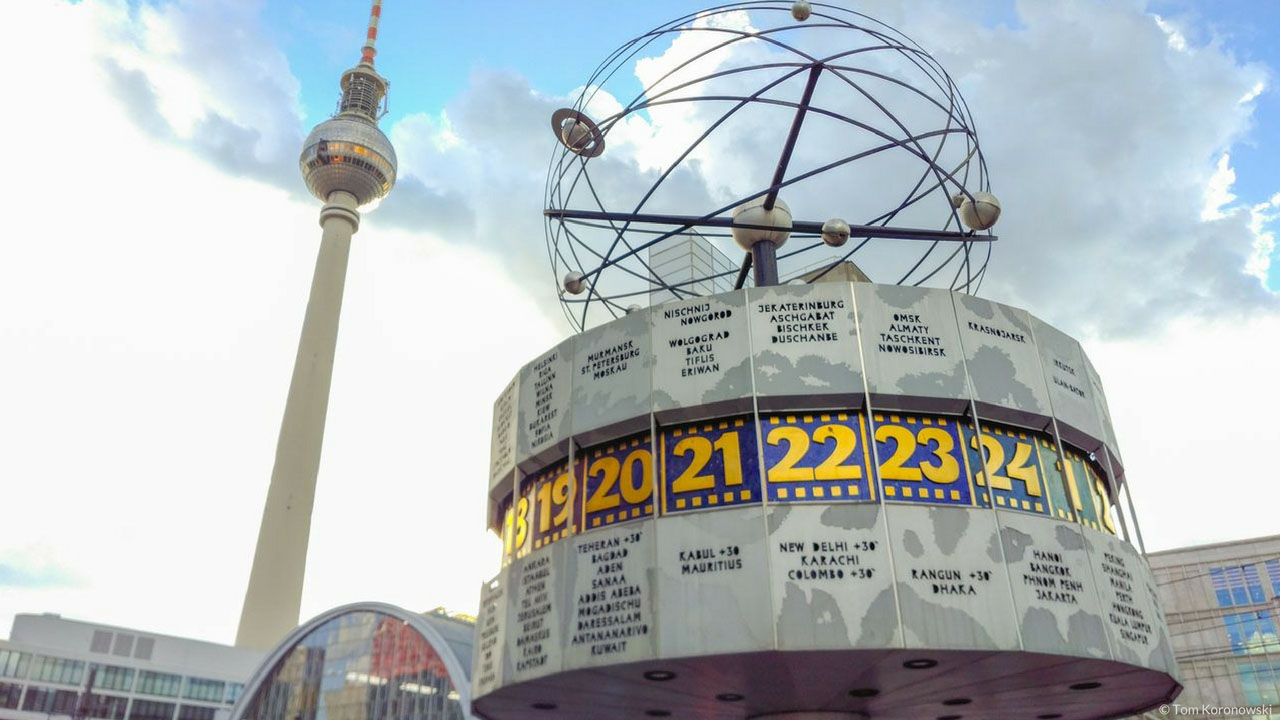 The World Clock Weltzeituhr in German) features different time displays of over one hundred cities around the world. This spot is actually a popular meeting place in the area. It is both aesthetically good looking as well as interesting to see all the different times in different countries. When we visited here, there was actually a mini Oktoberfest and beer garden around the area as well as a carousel, making Alexanderplatz a well suited for all ages.
3. Currywurst hopping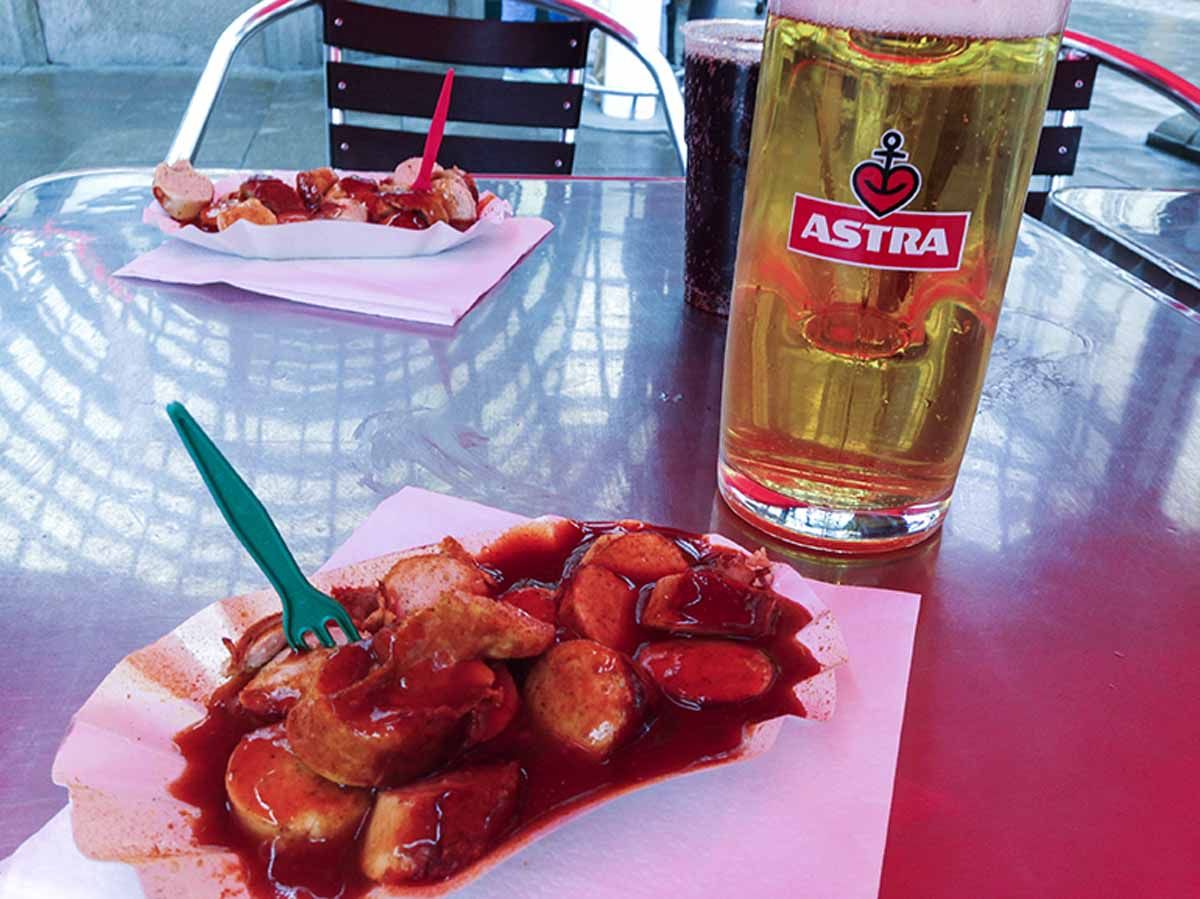 Of course, food! We only tried two different currywurst stands, although we wanted to try more currywurst. Our dilemma was that we had very good food at our hotel as well that kept us full for most of the day. Of the currywursts we have tried, we find the ones at Curry 36 the best. This stand was also recommended to us by locals. And ha! They also have Currywurst museum in Berlin if you are really into it.
4. Try the Gin Tasting at the House of Gin
The House of Gin is a newly reopened bar of Hotel Palace Berlin. It was previously closed due to the great flood in Berlin that made the old bar submerged in the water. But lo and behold, they made the House of Gin more accessible to the people that even if you are not a hotel guest, you can still experience the gin tasting or even just enjoy the very chic and elegant interior of the bar. Our bartender Pete who attended us was really knowledgeable and gave us all the information and tips on which gin and tonic pairings go well together. With gin tasting, you will be able to try several gin tonics from all over the world depending on your preference. With over 150 different gins with limited bottlings, you are guaranteed that there will be a gin suited to your taste.
5. Stroll, be amazed and be cheesy at the East Side Gallery
The East Side Gallery is 1316 meters long consisting of remnants of Berlin Wall. Along with the wall are different murals that serve as the longest open gallery in the world. This is actually one of the things that I really looked forward to in Berlin! Woot! For Instagram! Haha
They have over one hundred wall paintings to ogle at. You can various styles of paintings, from really colorful painting to very dark ones. The most popular painting is the 'My God, Help me to Survive This Deadly Love" and sometimes referred to as "Fraternal Kiss''. You often find couples kissing in front of the painting. Oops. At the start of the East Side Gallery, there's a store that says you can get Old Berlin Passport Stamp but be aware that those stamps can get your passports invalid. But if you're really into passport stamps collecting, try it with your expired passport.
6. Be lost (sometimes literally) in the Memorial to the Murdered Jews of Europe
Is also known as the Holocaust Memorial in Berlin. It is covered with 2711 gray concrete slabs with varying heights on a sloping pattern that gives the place a maze-like feeling. This is in an open space area that is located right next to the Brandenburg Gate and is walking distance to Reichstag Building which is the meeting place of the Bundestag or Federal Assembly in English. Unfortunately, when we visited the area the Turkish President Erdogan was visiting the country, hence the Memorial was closed for security purposes.
7. Shop around and window shopping
Shopping! When we started our travel around Europe it was summertime and the temperature was so high that I could even compare it to the Philippines' heat. Most of the time I am just wearing dresses and shorts and I am fine with it. But when we arrived in Berlin, the temperature dropped to around 15 degrees. Luckily, there are A LOT of retail stores and malls to shop at. So the first thing I did was buying my autumn outfit for my East Side Gallery photos. haha, You can choose from budget stores in Alexanderplatz and Berlin Mall up to the higher end ones in KadeWe, the second largest department store in Europe after the Harrods in London.
8. Experience the nightlife and try your luck in Berghain
As what I have mentioned earlier, Berlin's nightlife is known all over the world for its very diverse and colorful nightlife. You can choose from jazz clubs to indie bars, wine bars, to upmarket electronic- techno clubs. Some are even open during the day! One of the most popular ones is the Berghain, which are notoriously known for having a queue of hours and bouncers subjectively selecting whether you are suitable or not to enter the party. If you're up for a challenge and techno music is your thing you should try this one out and have the chance to party literally day and night.. But if not, there are dozens of other interesting clubs that will surely suit your taste.
There are a lot of other things to see and enjoy in Berlin but we didn't have enough time to explore all of them. But hey, that just gave me a reason to return back to Berlin.
By: twomonkeystravelgroup.com