Numbers nor photos can fathom the sheer scale and importance of the Great Barrier Reef, Australia's most remarkable natural treasure and the most significant reef system on the planet. The total World Heritage area off the coast of Queensland measures over 344,000 square kilometres, which is almost as large as Germany. Under the surface, 1625 species of fish live here, more than 600 species of coral bloom, plus 6 out of 7 known sea turtle species reside in this area.
Are you thrilled to explore this captivating paradise? With this guide, we help you to figure out how to travel to the Great Barrier Reef, how to discover it and to see the most beautiful locations.
How to Get to the Great Barrier Reef?
Townsville and Cairns are popular starting spots and there are several ways to get there. Cairns in particular is the most popular gateway to the magical Great Barrier Reef. Airlie Beach is another popular spot where you'll have access to the stunning Whitsunday Islands.
Plane
Cairns has an airport that handles flights from large Australian cities, including Brisbane, Melbourne, Perth, Sydney and Gold Coast. If you're travelling internationally, it's best to transfer flights in Melbourne, Sydney, or Brisbane. The airport in Townsville receives direct flights from Cairns, Sydney, and Brisbane.
For the Whitsunday Islands fly to Whitsunday Coast Airport.
Driving
Cairns, the city from where many Great Barrier Reef expeditions start, is far up north in the state Queensland. From both Brisbane and Gold Coast, you'll have to travel about 1700 kilometres over the road. But if you have time, the car is an excellent option to see some stunning land- and seascapes along the way. Townsville is located 350 kilometres south of Cairns. See rental options through RentalCars.com.
Train
A daily train called the Spirit of Queensland departs from Brisbane in the afternoon and arrives in Cairns 25 hours later. If you want to see Queensland in a relaxing manner, the train is the perfect type of transportation for this journey. This train also stops in Townsville, a journey that takes almost 18 hours from Brisbane.
Bus
Greyhound offers long-distance bus services from Brisbane, but this requires patience and a strong back. The trips to Cairns take nearly 30 hours, and tickets are generally at least as expensive as train tickets, so we recommend other types of transportation. Are you venturing for Townsville? The travel time from Brisbane by bus is 24 hours.
Tours
From both Cairns and Townsville, you'll be able to explore the reefs in various ways. If you're into diving, a multi-day liveaboard to several reefs is the most recommended option. But a full-day sailing cruise, snorkelling trip, or scenic flight over the massive reef complex are popular approaches for non-divers and those on a tight travel schedule.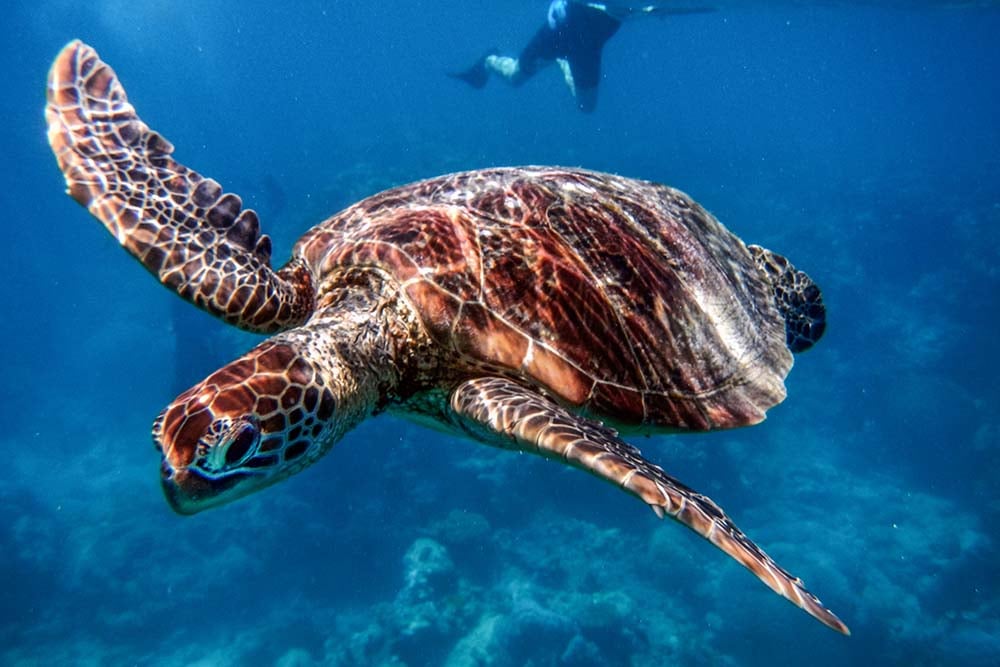 Some of the most compelling trips around the Great Barrier Reef include:
1-day snorkelling tour
A favoured trip for those who want to get up-close with the abundance of colourful creatures and reefs underwater. The most-visited stops during an excursion from Cairns are Milln Reef, Sudbury Reef, Thetford Reef, and Elford Reef, but generally, you'll visit just two of these during a one-day trip. These outer reefs are some of the most biodiverse and nutrient-rich in the entire reef system, and even with a snorkel and mask, you'll see an astonishing array of fish, hard and soft corals, and fascinating sea turtles floating around.
A morning tea and barbecue lunch are included when you book these fantastic tours.
3-day liveaboard tour
If you literally want to dive deeper into the wonders of the underwater world, a multi-day dive or snorkelling tour will linger in your memory for a long time. Make the most out of your time in this natural wonder of the world, and go down for 11 dives at 4 of the most striking reefs: the Flynn, Thetford, Milln, and Pellowe Reefs. Prepare yourself for interactions with species like moray eels, turtles, sharks, and rays, plus an incredible display of vivid corals. If you're an advanced diver, you can also opt for night dives and other technical dives during this expedition.
Fitzroy Island day tour
Fitzroy Island is the largest island that's part of the reef area near Cairns, and an amazing location for a tour and leisure day. Covered with tropical rainforests and beaches, this isle is the perfect place for sunbathing, swimming, snorkelling, and hiking. Other than snorkelling gear, sea kayaks are generally provided to discover the island from a different angle.
Whitsunday tours
The Whitsunday Islands are very close to the reef and you'll find various tours to see the islands and nearby fringing reefs. The tours can include snorkelling, relaxing on the beaches, guided walks, and plenty of photo opportunities.
Scenic flight by plane or helicopter
If your budget allows and you have less time to spend at the magnificent reefs, a scenic flight can be a life-changing endeavour. The tour options range from brief 10-minute flights over the azure ocean to 3-day expeditions that combine scenic flights and cruises around the northeastern part of Queensland.
The famous heart-shaped reef seen below can be seen through tours from Airlie which is also near the Whitsunday Islands.
By: www.travelanddestinations.com