Neo-Gothic Schloss Hohenschwangau was the childhood home of King Ludwig II of Bavaria and inspired the construction of the nearby Disney-like Neuschwanstein Castle.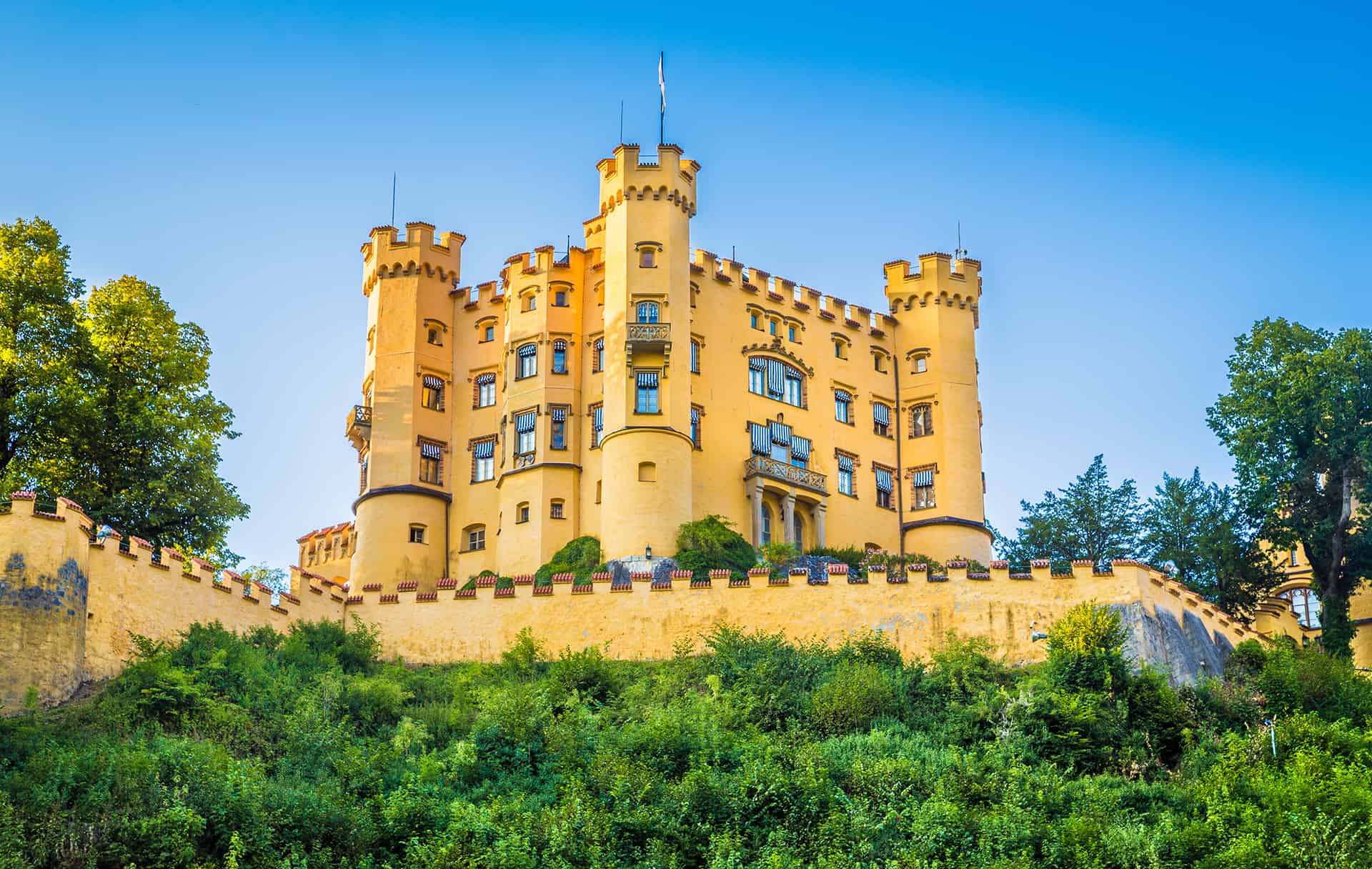 Schwangau near Füssen in Southern Germany is mostly visited to see the Disney-like, fairy-tale Schloss Neuschwanstein Castle. Less famous is the nearby Neo-Gothic Schloss Hohenschwangau where Mad King Ludwig spent happy childhood summers and probably dreamed up plans for his own more elaborate fantasy castles. Schloss Hohenschwangau was erected during the 1830s by Bavarian King Maximilian II in a Neo-Gothic style.
Schwangau and the Allgäu Became Part of Bavaria
Following the Napoleonic wars, Bavaria increased its territory and acquired amongst others the beautiful Allgäu area. In these new territories, Bavarian Crown Prince Maximilian discovered the ruins of Schloss Hohenschwangau.
Maximilian loved the natural beauty of the Allgäu region. The Alps formed a natural border with Austria and the future king enjoyed hunting here as well as enjoying the marvelous views from the mountains of the Bavarian Lech Valley. The ruins of Hohenschwangau near the small Alpsee Lake was perfect for Maximilian's fantasy castle.
Schloss Hohenschwangau Castle near Füssen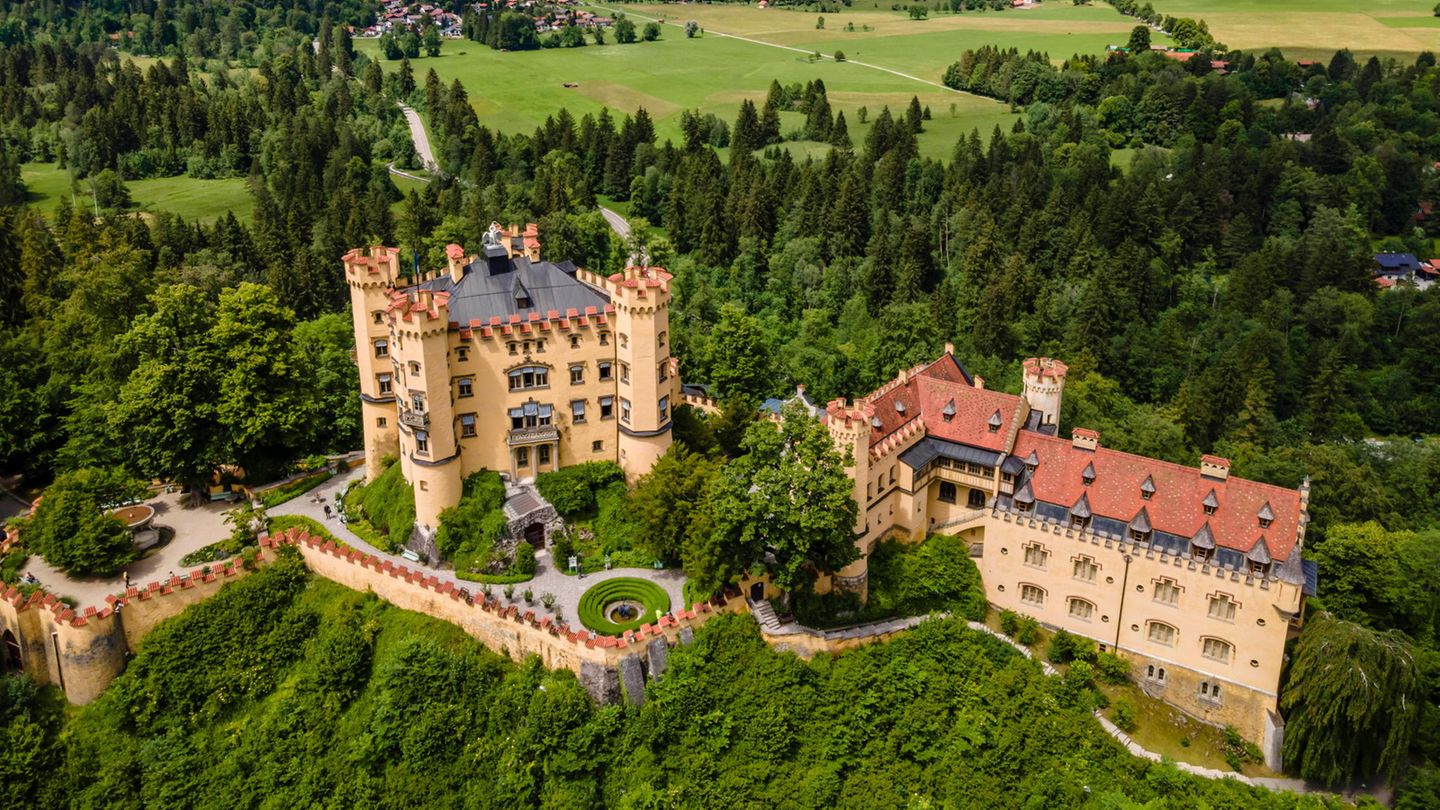 On the ruins of the medieval Hohenschwangau, Maximilian II had a new, Neo Gothic castle erected during the 1830s. Domenico Quaglio used his skill as both architect and theater designer to create a theatrical fantasy in a fully functional building. (Ludwig II's Neuschwanstein, in contrast, remained a rather unusable fantasy castle.)
Romantic wall paintings of German sagas dominate the interior of Schloss Hohenschwangau. Schwan is German for swan and swans are often used in decorations to link the new castle to the heraldic symbols of the medieval county of Schwangau.
Several paintings are dedicated to the Swan Order. Its most illustrious knight, Lohengrin, was later to inspire one of the best-known operas by Richard Wagner, who met Mad King Ludwig II for the first time in Hohenschwangau.
King Maximilian of Bavaria at Schloss Hohenschwangau
Bavarian King Maximilian II and his wife, Princess Marie of Prussia, used Schloss Hohenschwangau mostly as a summer residence. They basically initiated the era of mass tourism for the Schwangau reason. Just as day-trippers now provide work for locals, the court following the monarch provided a major economic stimulus during the nineteenth century.
Maximilian and Marie loved to entertain and frequently had receptions in the massive Knights' Hall in Schloss Hohenschwangau. Their son, Mad King Ludwig II, in contrast, was more asocial, and the large Singers' Hall, with impressive acoustics, in his fantasy Neuschwanstein Castle was used for concerts for the first time only sixty years after his death.
Mad King Ludwig II at Schloss Hohenschwangau
The future Bavarian King Ludwig II spent many, and by all accounts happy, childhood summers at Schloss Hohenschwangau. Ludwig's romantic disposition was no doubt greatly influenced by the painting he saw on the walls of Schloss Hohenschwangau. The most obvious consequence is the very popular, Disney-like fantasy castle Schloss Neuschwanstein that Ludwig erected within easy walking distance from Schloss Hohenschwangau.
Schloss Hohenschwangau is far less popular with visitors than the nearby Schloss Neuschwanstein Castles. As a result, Hohenschwangau can often be seen without ticket reservations but somewhat ironically, print-at-home tickets will be available from 2020 while Schloss Neuschwanstein tickets will still have to be picked up in person.
Both Schloss Hohenschwangau and Neuschwanstein Castle are in Schwangau near Füssen, an easy and popular day-trip destination by public transportation from Munich.
By: european-traveler.com