If you're planning a winter trip to Europe and wondering when does it snow in Austria? this blog post is for you!
Austria's well-known for its Alpine mountains, which are a magnet for snow in the winter months.
It snows in these mountains from November onwards, with skiing possible often until April.
However, snowfall in other parts of the country, including Vienna, is a little more sporadic.
It can snow anywhere in Austria in the wintertime, but the frequency and likelihood depends on your elevation and a few other factors.
So, here's all you need to know about snowfall in Austria.
Does it snow in Austria?
Yes, it snows in Austria, but the amount and frequency differ depending on where you are.
Snow is abundant and long-lasting in the Alpine regions, especially from December to March.
In contrast, winters in Vienna and Graz are milder – snowfall is more sporadic and less intense.
When does it snow in Austria?
It mostly snows in Austria from November to April.
But the extent of snow varies: while mountains see heavy blankets, cities often get just a dusting, most often sometime during December to February.
Does it snow in Austria in November?
By November, the first significant snowfall arrives in the Alpine regions which kicks off the ski season.
In lower elevations, you might see a light dusting, but usually, the ground remains clear.
Does it snow in Austria in December?
December ushers in winter with abundant snow in areas like Tyrol and Salzburg.
Cities like Vienna may also get some snow, though it's usually not that deep.
Does it snow in Austria in January?
January is prime snow month.
In mountainous regions, expect plenty of deep powder and ideal skiing conditions.
Cities are also likely to be covered in a layer of snow.
Does it snow in Austria in February?
February keeps the snow coming in high-altitude areas – it's another excellent month for winter sports.
Cities might see less snow, but there's usually still some!
Does it snow in Austria in March?
March might signal the onset of spring, but the Alps often still have a fair amount of snow!
In lower elevations, snow becomes less frequent as the first buds of spring appear.
Does it snow in Austria in April?
In April, snow is rarer and begins to melt in most places.
However, you'll still find some Alpine resorts with good skiing conditions.
Why does it snow in Austria?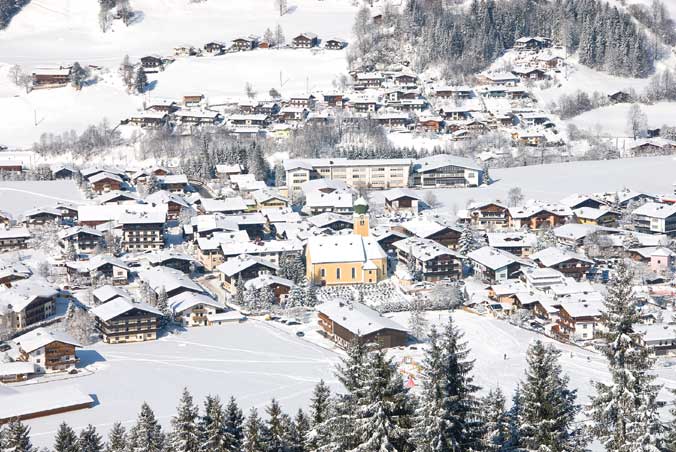 Snowfall in Austria is influenced by its distinct geographical features and diverse climate regions.
The presence of the Austrian Alps plays a crucial role in the country's snowfall patterns.
These mountain ranges serve as a magnet for moisture-laden air masses, leading to consistent and heavy snowfall, particularly in regions like Tyrol, Salzburg, and Vorarlberg.
Austria's climate is diverse – different regions have varying levels of snowfall.
The western and central areas have an Alpine climate, yielding heavy snowfalls, while the eastern parts sit in a Pannonian climate, characterized by colder winters but generally less snow. This diversity ensures a range of snow conditions, expanding your winter activity options.
Where does it snow in Austria?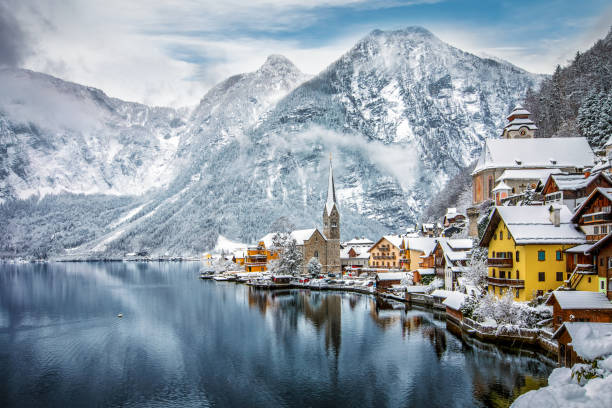 From the flat plains to mountain peaks, Austria's snowfall is as varied as its terrain.
Here's a detailed look at each region:
Burgenland
Located in Austria's easternmost corner, Burgenland is mostly flat and doesn't get much snow compared to the rest of the country. If you're looking for winter sports, this might not be your go-to destination! Snow can fall on the vineyards and lakes, but it's rare.
Carinthia
Situated in the southern part of Austria, Carinthia is characterized by its stunning lakes and mountain ranges.
Snowfall's prevalent in the higher elevations, particularly in the Hohe Tauern mountain range.
This makes Carinthia a popular destination for skiing and other winter sports.
Lower Austria
Surrounding the capital city of Vienna, Lower Austria has a mixed terrain that ranges from flat plains to rolling hills and mountainous areas.
Snow is more common in elevated regions like the Wienerwald and Mostviertel.
The Danube Valley, on the other hand, sees less frequent snowfall.
Salzburg
Named after its capital city, the region of Salzburg is located in central Austria.
It's a winter wonderland come December, especially in the higher altitudes.
Ski resorts abound, thanks to consistent and heavy snowfall in the Alpine areas.
Styria
Also known as the "Green Heart of Austria," Styria is located in the southeast.
Snow is common in the mountainous northern and western parts, including the Dachstein mountain range and the Ennstal Alps.
Tyrol
Located in the western part of Austria, Tyrol is synonymous with winter sports.
The region is home to some of the most famous ski resorts in the world.
Snowfall is abundant and frequent, especially in areas like the Ötztal Alps and the Zillertal Valley.
Upper Austria
Bordering Germany and the Czech Republic, Upper Austria sees frequent snow in its southern Alpine areas.
The region also includes parts of the Bohemian Forest, which sees moderate snowfall during winter months.
Vorarlberg
The westernmost state of Austria, Vorarlberg is another haven for winter sports enthusiasts.
The region, particularly the Arlberg area, receives heavy snowfall, making it ideal for skiing and snowboarding.
Does it snow in Vienna?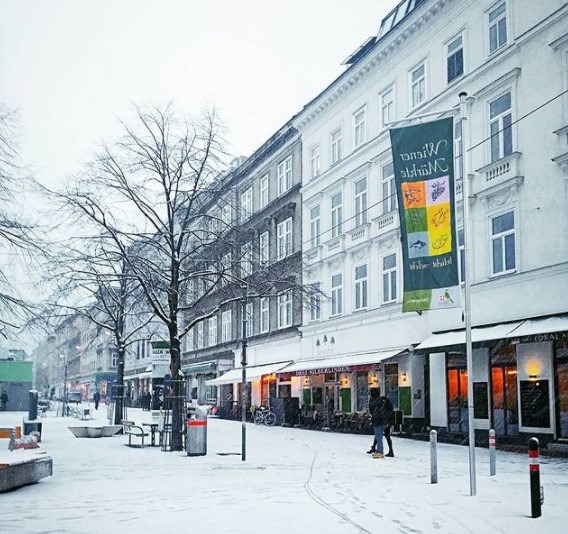 While Vienna does see snowfall anytime from November to March, it tends to be limited and short-lived, usually melting within a day or two. You're much more likely to encounter cold, perhaps wet weather in the city.
Does it snow in Salzburg?
Yes, Salzburg sees substantial snowfall, although there's typically more snow in the mountains around the city compared to the urban centre itself.
Does it snow in Innsbruck?
Innsbruck, located in Tyrol, is a winter sports paradise.
The city and its surrounding areas see heavy snowfall, making it an ideal location for skiing and snowboarding.
Does it snow in Graz?
Graz, located in Styria, sees moderate snowfall throughout the winter months. It's not a ski destination, but you may well catch some snow here!
Skiing in Austria
From world-famous resorts to hidden gems, Austria boasts an extensive range of skiing opportunities that cater to both beginners and experts alike.
St. Anton
St. Anton, known for its challenging slopes and vibrant apres-ski culture, is a must-visit for avid skiiers.
Located in the Arlberg region, it's a hub for international skiing enthusiasts.
Kitzbühel
Kitzbühel combines a picturesque setting with high-quality ski runs.
Famous for hosting the Hahnenkamm, an annual fixture in the men's World Cup, it offers varied slopes that cater to all levels.
Ischgl
Ischgl is where high-quality skiing meets lively nightlife.
Renowned for its well-groomed slopes and modern lift systems, it's a popular choice for those looking to ski all day and party all night!
Sölden
Sölden stands out for its glacier skiing and expansive terrain.
With a range of slopes that span beginner to expert, it's a versatile destination with a longer ski season than most areas.
Tips for visiting Austria in the snow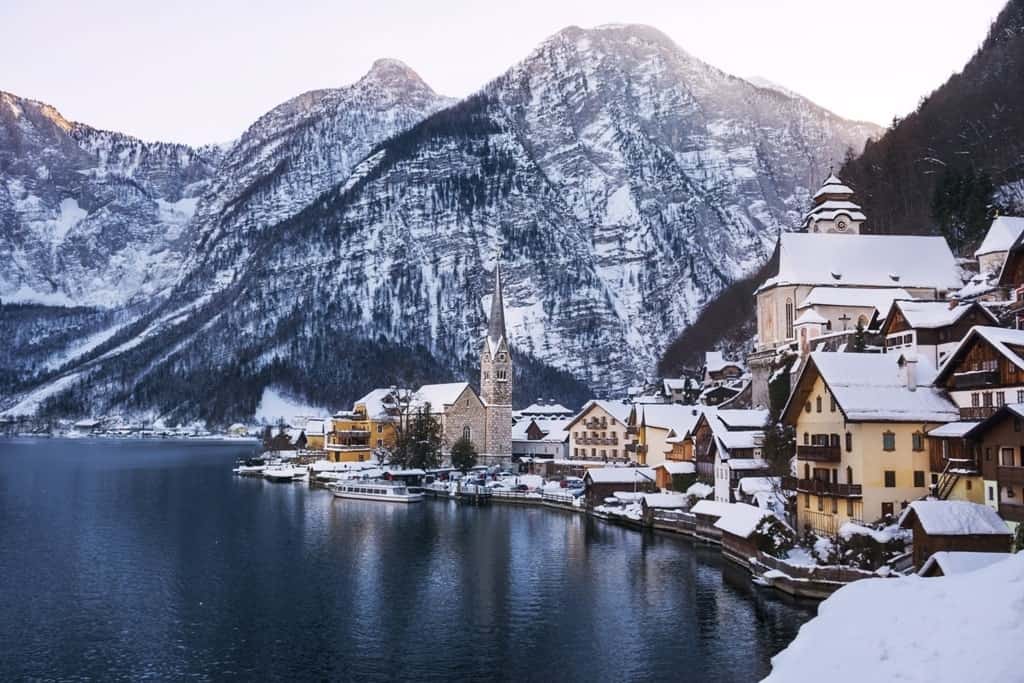 Before you venture into an Austrian winter, make sure you're prepared!
Here are some tips to enhance your experience:
Stay updated on road conditions, especially if you're driving. The ÖAMTC website provides real-time traffic updates, including details on road closures and required snow chains.
When choosing a ski resort, consult the Bergfex website for up-to-date weather forecasts, snow reports, and live webcams to ensure conditions are optimal for your activities.
Take advantage of Austria's efficient public transport. Austrian Rail (ÖBB) offers regular updates on train schedules and delays, especially handy during heavy snowfall.
Dress in layers. Austrian winters can be frigid, and having the ability to adjust your clothing can make a significant difference in comfort.
Know the local emergency numbers. Dial 112 for general emergencies and 140 for mountain rescue. Always have a fully charged phone when venturing outdoors.
Keep an eye on your altitude. Higher elevations have colder temperatures and more snow, which may require additional gear or precautions.
Purchase a ski pass in advance to avoid the rush. Many ski resorts offer online booking, sometimes at discounted rates.
What is the snowiest place in Austria?
The Arlberg area gets the heaviest snowfall.
This region is often called the "cradle of alpine skiing" and is home to popular ski resorts like St. Anton, Lech, and Zürs.
With an average annual snowfall exceeding 7 meters, the Arlberg area is a magnet for snow enthusiasts.
The reliable snow conditions, combined with high-quality ski facilities, make it a must-visit destination for anyone who's searching for the ultimate winter trip!
Are you ready for the snow in Austria?
It certainly does snow in Austria – and quite a lot!
One of Europe's prime skiing destinations, this Alpine country is renowned for its slopes.
While it can snow anywhere in Austria, now you know where you're most likely to find it.
Source: https://europeinwinter.com/