To make traditional Dutch stroopwafels, bakers press two round wafer-thin waffles between a layer of gooey caramel syrup, creating a chewy cookie-like dessert that tastes incredible alongside a fresh cup of coffee.
Stroopwafels originated in Gouda at some point between the 18th and 19th centuries. According to legend, bakers in the city would mix together leftover cookie crumbs to form a dough and then shape this mixture into waffles. To sweeten these treats, bakers glued the waffles together with sugar syrup, forming a tasty and handy snack out of ingredients that would have otherwise been thrown away. Eventually, other bakers in the Netherlands jumped on the bandwagon, turning stroopwafels into a national staple.
While fresh stroopwafels are already warm and gooey, packaged varieties tend to become slightly more brittle (but are still super-tasty). To rejuvenate store-bought stroopwafels, people often place them on top of hot cups of coffee or tea, in order to soften the waffle's outer and inner layers with warm steam. Thankfully for anyone eager to sample these delicious Dutch treats, stroopwafels are available at bakeries, cafés and stores throughout the country, including the following noteworthy spots in Amsterdam.
Lanskroon
This long-running bakery in central Amsterdam makes superb king-sized stroopwafels that barely fit into one hand. These mammoth, crispy waffles are stuffed with several different types of filling, ranging from standard caramel to coffee syrup. The bakery has been run by the same family for four generations and makes many other incredible desserts aside from its signature waffles. For instance, Lanskroon offers around 20 different flavours of homemade ice cream and bakes batch after batch of traditional Western-European pastries every day of the week. It is possible for customers to enjoy their chosen desserts inside the bakery's charming tearoom, which overlooks Amsterdam's Singel canal.
Original Stroopwafels
The founder of this charming stroopwafel stand honed his waffle-making skills in Gouda, having learned a secret recipe from one of the city's leading bakers. Since then, he has continued to use this mysterious recipe to create authentic Gouda-style waffles alongside other members of his family inside a charming old-school food truck located in Amsterdam's famed Albert Cuyp Markt. Known as Original Stroopwafels, due to its adherence to time-honoured methods, this truck bakes and serves waffles straight from the grill. These gooey, delicious treats only cost €1.50 and can be bought in stacks of 10, which are packaged inside decorative cookie tins.
Van Wonderen Stroopwafels
Unlike other more traditional stroopwafel vendors, Van Wonderen experiments with its recipes and mixes things up by serving waffles with extra chunky toppings. Customers at Van Wonderen are encouraged to choose between several toppings and can essentially design their deluxe stroopwafel by adding additional layers of chocolate, marshmallow and candy. The store lies around 100 metres away from Amsterdam's floating flower market on one of the city's most popular shopping streets, Kalverstraat.
Stach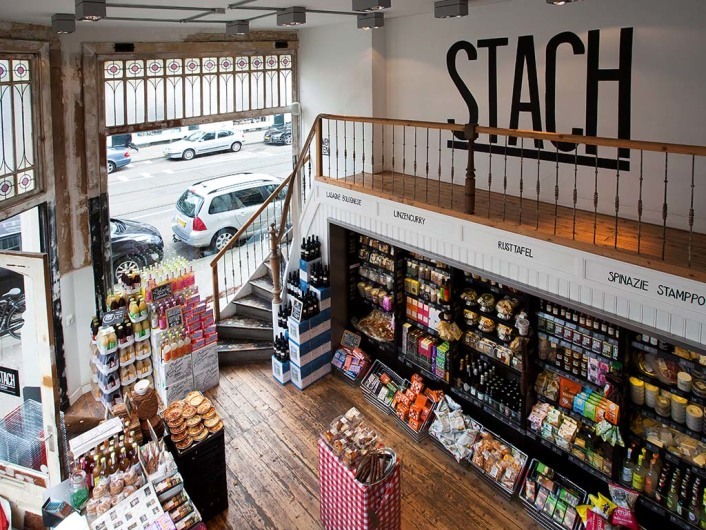 Stach has 10 different locations in Amsterdam, which sell everything from freshly baked bread to trendy imported soft drinks like Club Maté. These small deli-style grocery stores always stock an impressive selection of well-crafted desserts and usually present their stroopwafels alongside other similarly sized cookies. A stack of 10 stroopwafels costs €2.99 at Stach and can be purchased alongside fresh coffee, other delicious baked goods or tasty lunchtime meals.
Croissanterie Egstorf
This welcoming bakery is housed on the ground floor of an eye-catching Art Deco-style townhouse that stands on the northern side of Spuistraat. Aside from baking some of the finest croissants in the entire city, Croissanterie Egstorf also makes delicious traditional Dutch treats – including fresh stroopwafels – which are sold in small stacks and wrapped in handy packaging, The bakery opens at 6:30am most days of the week, making it perfect for early-risers searching for fresh baked goods to start off their day in Amsterdam.
By: theculturetrip.com