Kaavan the elephant who has been in a tiny enclosure for more than 30 years will finally be allowed to swap his home at Islamabad zoo for a wildlife sanctuary in Cambodia.
Since 2012, the elephant has been lonely. Saheli, an elephant, was the only friend of Kaavan but she died in 2012. Kaavan has never been the same.
After it was reported that Kaavan was tied up at all times, hundreds of thousands of people signed a petition for him to be given a new home, where he would be better loved.
Dr Amir Khalil, the head of Four Paws, said he was hopeful the relocation would prove a success.
"The team is very experienced and conditions for his recovery are very good. He will be able to form a group with other elephants and actually live in a vast area of his natural habitat," Khalil said.
"Contact with other elephants will help him establish his position within his new family group and also gain more self-confidence."
To make matters worse, Kaavan was confined to a pen just 90m by 140m (300ft by 450ft) with little shelter, which meant he had no protection from the baking sun.
Temperatures can reach a stifling 40C (104F) in Islamabad and there was no shade for the elephant.
Kaavan has displayed worrying behavior such as violent episode, swaying, head bobbing and more. Safwan Shahab Ahmad, the vice chairman of Pakistan Wildlife Foundation who has studied the elephant since the 1990s, said this behavior "a kind of mental illness".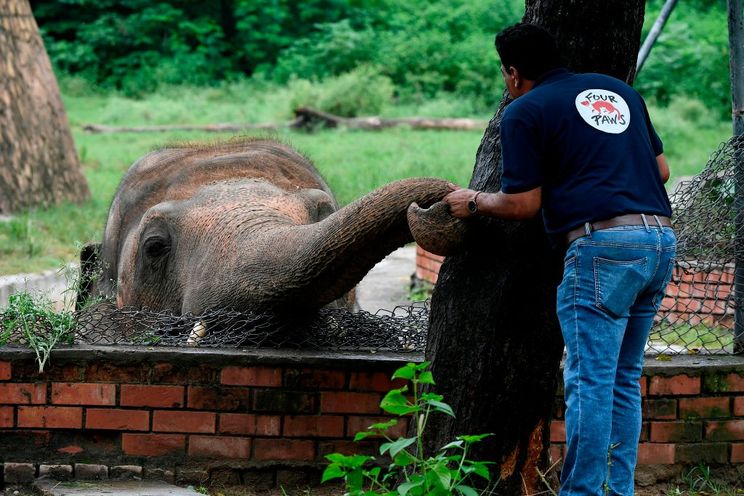 Kaavan is expected to be transported to his new home within the next 30 days. There he will receive help by world-renowned elephant experts.
They will help him overcome his mental illness, care for his neglected physical state, and help socialize him with the sanctuary's other elephants.
Kaavan will also enjoy a rich forest, a vast area to go as he pleases, and a sanctuary that measures over one million acers, the size of over 1000 Central Parks.
We are wishing Kaavan a safe journey, a speedy recovery and dozens of new friends.
We will be monitoring and reporting on Kaavan's progress.