A Dutch dad named Thijs de Bruijn was knocked for six when his third child, Eline, came into the world. The little girl was born with Down syndrome, and her diagnosis shattered Thijs's preconceptions about the father-daughter bond they might share.
However, contrary to what he had read and expected, Eline brought more light and love into Thijs's life than he ever thought. He then wrote a song in tribute to his beautiful daughter on how she changed his life, and its touching message has gone global.
Advertisement – Story continues below
Meeting Eline
Eline's diagnosis at her birth came in as a complete shock to Thijs and his wife.
"I did not expect it because we had performed prenatal screening and everything looked just fine," Thijs explained, speaking to The Epoch Times via email. "Doctors, other people, and the internet told me a lot of negative, scary things about the health issues of Down syndrome children and their cognitive impairments."
However, the doting dad soon realized that Down syndrome was not synonymous with a difficult life. As Eline grew, so too did Thijs's love and respect for his daughter grow with each passing day.
Eline, whose nickname is "Pien" has provoked many positive changes in her father. "I was always about the control. I wanted to have control over my life," he reflected. "That part is gone because you can't control everything in life."
"I'm always very nervous, and she calms me down," he continued, "because, in Eline's life, everything moves a little bit slower, so I have to slow down as well."
Advertisement – Story continues below
However, Thijs says that's a good thing as he was always really fast, and now he has become more patient and relaxed.
Sociable Eline attends a regular primary school and puts a huge amount of effort into fitting in. "She [taught] me that it's not all about getting good grades at school," her father explained. "Society wants you to be good at everything, in sports, or in school, and well. But that's not what my life is about anymore. I know now that it's about love and happiness."
'You & Me': a Father's Special Tribute
Citing his favorite things about Eline as her sweetness, her humor, and her being "just adorable," Thijs credited his daughter for bringing "joy to the room when she enters."
Advertisement – Story continues below
"I really love her a lot," he said.
Wishing to immortalize Eline's phenomenal impact on his life in words, Thijs wrote and recorded a song with the help of friends under his artist name, Kijoe. The best way to express his feelings, he reasoned, was through music.
"You & Me" was released in Dutch in 2018. Family, friends, and netizens, moved by his message of love and inclusivity, encouraged Thijs to share his song with the world. The rapper decided to release a second version in English.
Advertisement – Story continues below
"It's really about my love for my daughter, and to bring Down syndrome awareness around the world," Thijs said of his song.
Public Response
The video has really touched people's hearts. Thijs said he has received a lot of positive responses.
"Other parents with Down syndrome children helped me make the video by sending me their footage of their children," Thijs explained to The Epoch Times.
Advertisement – Story continues below
News and social media helped "share the love" by sharing the song. Before long, Thijs's testimony out into the world had a boomerang effect; the parents of other children with Down syndrome began contacting him to share their own stories and experiences.
"I hope that future parents of children with Down syndrome hear my message, and hopefully it brings balance with the negative sounds society and many doctors give them," Thijs expressed.
To this day, Thijs's music group, Onkruit, writes songs in Dutch with messages of positivity to put out into the world.
Advertisement – Story continues below
"So Glad She's Born"
Looking back, Thijs realizes he had to overcome many preconceptions when his daughter was born. "I was a product of my surroundings," he reflected. "I found out with Eline that there's a really big positive side to her existence, and other people with Down syndrome as well, despite their disability."
Today, Eline is thriving. The father and daughter duo are closer than ever.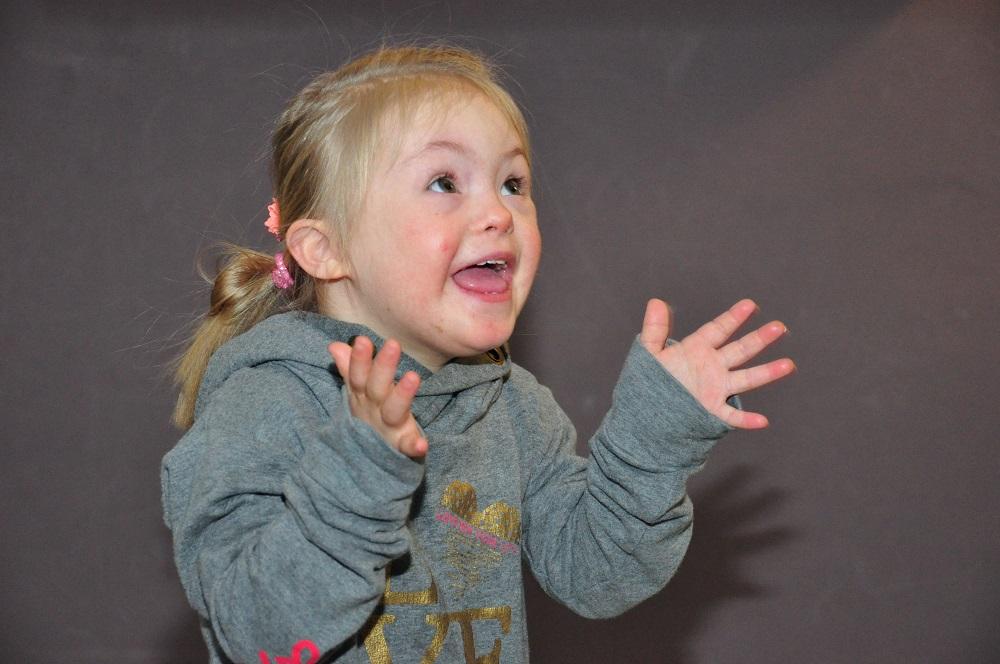 Advertisement – Story continues below
"She's just amazing," Thijs said. "I'm so glad that she's born; it's a totally different story than people [and] society made me believe.
"I hope Eline and I will live long and happy, just the way we're doing now."
Source: https://www.theepochtimes.com/